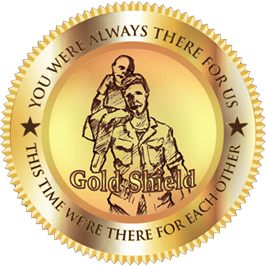 In these challenging times that America finds itself in, it is imperative that we come together to support and involve ourselves in giving back to our military veterans and to help those suffering from cancer.
These two top priorities must be confronted:
On a daily basis, an average of 22 veterans commit suicide, and Americans continue to die needlessly due to uncontrollable suffering from cancer.
Since the tragic days of 9/11, America has lost 6,000 of the men and women from our military during the number of wars that we have been engaged in. 
As astonishing as it is unbelievable, over 140,000 returning men and women have taken their own lives here at home while suffering from PTSD. Additionally: accelerating cancer research can only be accomplished by the participation of us all. 
With your support, these needless tragedies can end
These tragic unknown facts are what Gold Shield is here to solve.
So, we developed a solution: If businesses donate a small portion of their revenue to support this cause, we can create change that will last forever. Let's do this… NOW.