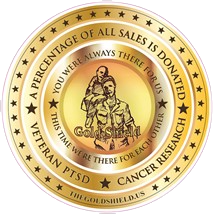 Who am I helping as a Gold Shield Member?  
Veterans—The men and women who served this country, often return home with a specter over their shoulders… PTSD drives dozens of Veterans to commit suicide on a daily basis.
Cancer Victims—Those who suffer terribly at the hands of an illness which has been with us for far too long. Research into methods of ending cancer's impact on the world for good is progressing, but not fast enough. It needs a bigger boost and Gold Shield Members provide that. 
Gold Shield Members,
Hi,
If you've reached this page, you are looking for the foundation of our efforts.
A comprehensive listing of our gold shield merchant members is currently being compiled. It will be user friendly in order to acknowledge and highlight the merchants that have stepped up in this time of need.
If you've noticed, our logo has a simple drawing of a soldier. that soldier is carrying a sick child on his shoulders…for us, that child represents all cancers and that soldier, once again, was there for us all …. this time they are there for each other.
Gold Shield is dedicated to finding the solutions to these most important issues. They should be our highest priorities. Accelerating the efforts to take the word cancer from our every other breath and stopping our veterans from taking their own lives…
We will find the solutions to ending the two most tragic issues of our time.
If you believe… as we do, that these two devastating challenges beg our every effort: Veterans who went out for you and me, only to come home in a darkness that leads to taking their own lives; and cancer, which is only being slowly attacked; and does not have the support necessary to match its importance.
If you believe… then shop where you see the Gold Shield. Those Merchant Members are on the front line and through your support they are all "chipping in."
Whether you're a consumer or a merchant, please know that you will be seeing and hearing the words Gold Shield for as long as it takes to reach our goals. And that's The Simple Truth.
Gold Shield runs a National Marketing Campaign, driving consumers to businesses that support Veterans. 
When customers shop at your business, the Gold Shield lets them know their money is going towards helping Veterans in need, at no extra cost to them!
Your merchant membership fees are what drive customers to your business, through our National Advertising campaign to benefit people in dire need of assistance, every day!!
Your membership fees are deductible as an advertising expense, just like any other advertising would be. 
In addition, we encourage our members to donate to the Veteran Organization of their choice. Your donations, which are totally at your discretion, are also deductible just like any charitable donation to a 501©3 nonprofit! 
So, you and your accountant can sleep well knowing that you provide for our most worthy of causes and save lives while running your business.  Together we will change the country for the better by getting Veterans the support that they have earned through their sacrifices. 
Upon your purchase of a Gold Shield membership, you will receive the Gold Shield decals, media coverage, and a host of marketing materials.
Let's do this for those who came home but are still at war, and for the ones who suffer needlessly with Cancer.
It's up to you and me, and this… is The Simple Truth.

Register your interest to become a Gold Shield Member, or learn more about Gold Shield, below: